It is reported that there has been bad blood rumour between the 2011 Song Writer of the Year Nince Henry and Gagamel Boss Bebe Cool. Very many people have for long been saying Nince swore never to work with Bebe cool over personal issues.
We can exclusively tell you that Nince Henry rubbished all the blackmails written and said about him..
Let me put this straight…the rumour your hearing about Me and Bebe cool not working togather is total rubbish




He's my friend and we work together. The problem is, if people identify you with someone, they always want you to be with them.'




'We work together but don't have to be together everytime.' Nince said
Nince is the brain behind songs like Omukwamo gunyuma by Samali Matovu; Julie Mutesasira's Tubenga bumu, Bobi Wine's Tube bayonjo, Iryn Namubiru's Kawoowo, Begombeeko, and Birowozo, Barbie Jayz Tombuuza, Diana's Nalubega Kisumuluzo, and Oliwange by Rema.
His art in song writing is the reason why artists like Rema are known now.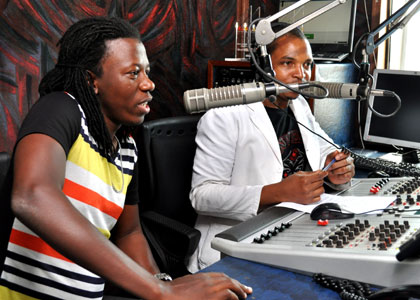 Henry Sekyanzi Ninsiima aka Nince Henry has written many chart topping for various artists and Bebe cool has been the beneficiary to this. Among the song Nince wrote for Bebe Cool includes: Eno minzani and Kamwaako!!