Scroll down for the Video!
Fans spilled into the sold out Forum theater in Los Angeles on Friday to see the premiere of Kanye West's new NSFW video forThe Life of Pablo track "Famous." The song received criticism from Taylor Swift and her camp after the Chicago rapper claimed her success only came after he infamously snatched the mic from her at the 2009 MTV Music Awards.
While Swift's camp publicly condemned the lyrics, West and his wife Kim Kardashian claim they have video recordings of Swift giving the song her blessings.
"[I say] a lot of lines other wives would not allow a husband to say," West recently told Vanity Fair. "But my wife also puts up photos that other husbands wouldn't let them put up. One of the keys to happiness in our marriage is we're allowed to be ourselves."
In the visuals, wax dolls are partially covered in bed sheets, lying completely still, making only one or two surprise movements throughout the three minute and 16 second track. The folks lying in bed, reminiscent of Vincent Desiderio's "Sleep", include: West, Kardashian, Donald Trump, Taylor Swift, Chris Brown, Bill Cosby, George Bush, Caitlyn Jenner, Rihanna, Ray J, Anna Wintour and Amber Rose.
"It's a comment on fame," he explained to VF.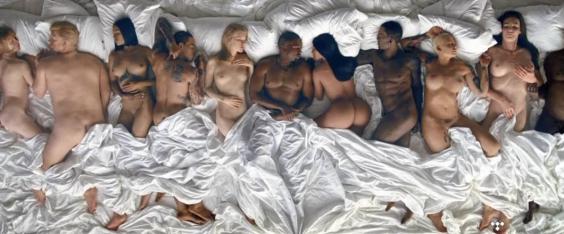 Kanye West/Tidal
The Tidal exclusive streamed online, and the event started a half an hour late because the majority of fans were lined up in the lobby to purchase West's latest merchandise, he announced shortly before the show. He previously said that he chose to release the video in theaters after the success of The Life of Pablolaunch party in February at Madison Square Garden in New York City. Both events sold out in minutes.
Brown commented on his wax figure's butt crack shortly after the premiere.
"Why I gotta have the plumbers butt crack showing wax figure?" This nigga Kanye crazy, talented, but crazy," Brown wrote on Instagram.
Kanye's New Music Video For Famous. This man is a lunatic, I have come to the conclusion.https://t.co/4tcZMQq9f4

— NovelistPrice (@Novelistprice) June 25, 2016