Snoop Dogg allegedly used a homophobic slur in an anti-gay Instagram message, then deleted it.
The message in question was posted on Monday, Sept. 15, around 12:30 a.m., according to Buzzfeed. The post, uploaded to Snoop's Instagram account, consisted of a photo of two men in bed from another Instagram user's feed and the caption:
"U n ya boyfriend since you like Jumpin on my page disrespectn bitch boy go suck ya man n get off my line f. A. G."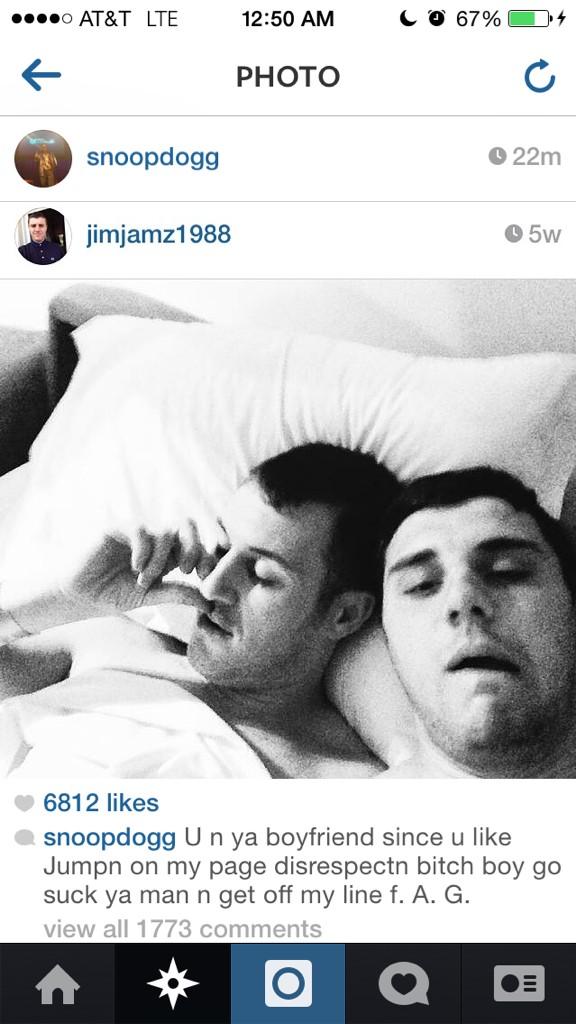 The post was deleted around 1 a.m., but not before screen grabs were captured and shared on other social networks.
A representative for Snoop was not immediately available for comment. The user account from which the photo was taken has since been deleted.
The rapper has made headlines for comments about homosexuality in the past, like when he was discussing the coming out of Frank Ocean and the acceptance of gay rappers in the hip-hop community.
"It's like a football team," he said;
"You can't be in a locker room full of motherf**king tough a** dudes, then all of a sudden say, 'Hey, man, I like you.' You know, that's going to be tough."
Frank Ocean is a singer, he added.
"It's acceptable in the singing world, but in the rap world I don't know if it will ever be acceptable because rap is so masculine ... I don't have a problem with gay people. I got some gay homies."